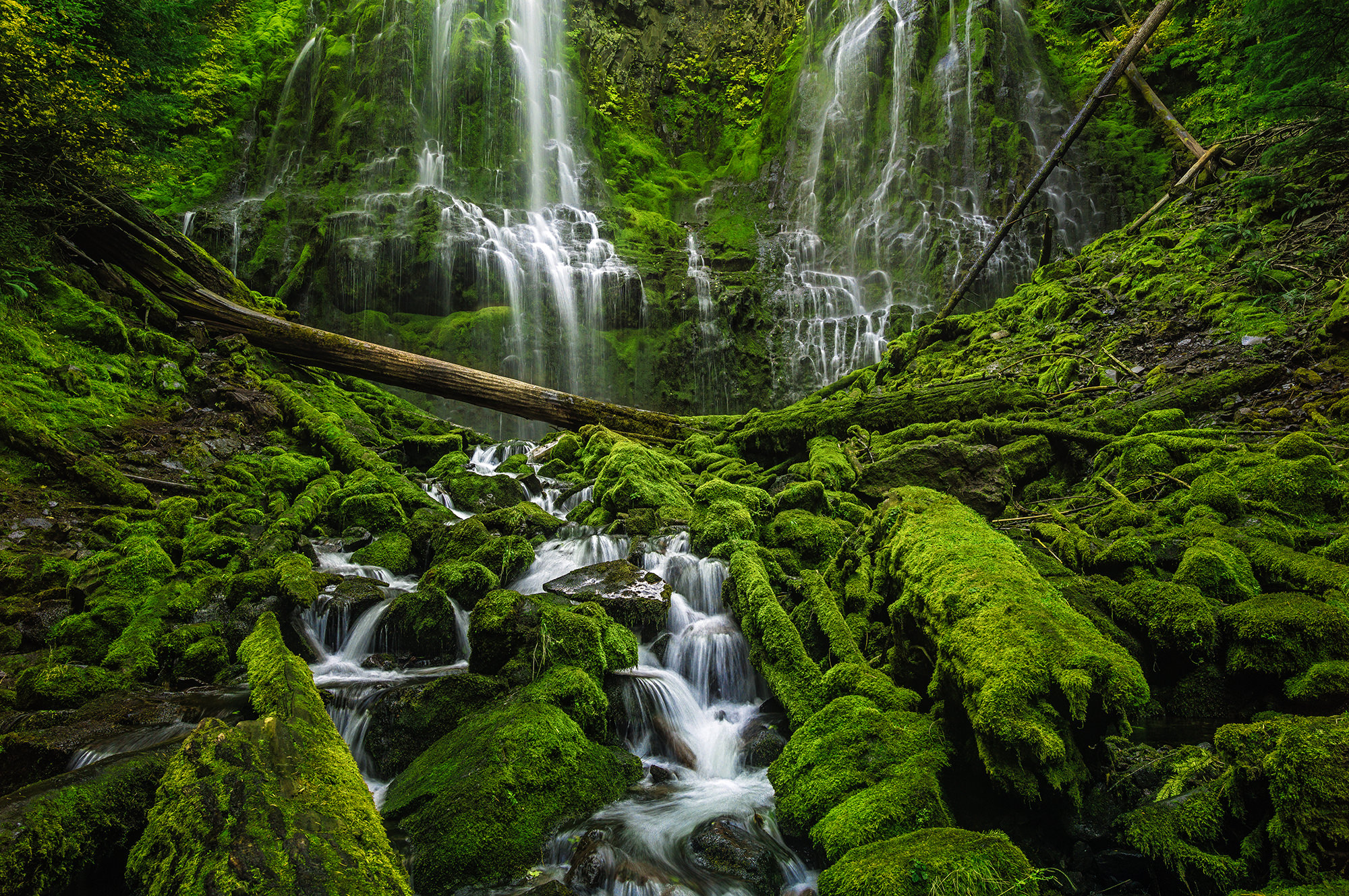 Three Sisters Wilderness, OR
Proxy Falls - it is difficult for words to fully describe Proxy Falls. It is simply one of the most stunning waterfalls you will ever see and certainly one you will never forget. It is easy to understand why it is frequently included on lists of the world's most beautiful waterfalls.
The tranquility of this once hidden place along with the roar of this majestic 200ft. waterfall seem to shelter you from the world you were in just a mile away. Each time I visit Proxy, I wonder how all this happened. How did this perfect oasis appear out of nowhere in the hills of the Oregon wilderness? You can easily spend all day in this one location and come away with 50 different compositions and thousands of different memories. If you are in Oregon and can visit only one place, this is one I would consider.
Proxy Falls is a very special place and receives many visitors each year. I would ask that when you visit here, please do your best to preserve this great location for future visitors and always try to leave it in better shape than when you found it.
Trail Difficulty - MODERATE TO DIFFICULT
I would rate the difficulty of this trail as a 3 on a scale of 1-5 (with 5 being most difficult). The hike to Proxy Falls is a modest 0.75 mile walk from the parking lot/trailhead, with a slight elevation gain. The hike then goes through an old lava flow and then a mixed conifer forest. The more difficult part of the hike is once you get to Proxy Falls where you have to hike down a steep incline to the base of the falls.
Once you get to the base of the falls you need to be careful walking through ankle high water and slippery rocks. Caution is important to be stay safe, dry, and upright.
GPS Coordinates & Elevation
Google Maps Birds-Eye-View
Click link above to view location in Google Earth
CLICK HERE to get driving directions the Proxy Falls trailhead parking lot.
The closest towns to Proxy Falls are Sisters, OR (57 miles east) and Eugene, OR (65 miles west).
From Sisters, OR, drive approximately 29 miles west on US-20 and then turn LEFT (south) on OR-126 for 19.8 miles. At OR-242 turn LEFT (east) and drive on this 2 lane winding paved road for 8.5 miles. NOTE: at 6.2 miles there is a gate for OR-242 (the gate is closed in the winter and early spring).
At 8.5 miles from OR-126, you will come up on the Proxy Falls trailhead. There is a small parking area on both sides of the street. The trailhead is marked by a forest USDA information board (the opposite side of the road from the toilet
The trail to Proxy Falls is basically a loop, meaning you can go either left or right at the trailhead. I have always gone right. If you go right on the trail, it is a modest 0.75 mile walk with a slight elevation gain and goes through an old lava flow and a forest. Once you are on the trail for a while and you get near the falls (you can hear the water), there is a split in the trail with a sign for both Upper and Lower Proxy Falls. The classic shot is at Lower Proxy Falls, which is right at the sign. You might also want to hike to the Upper Proxy Falls, as there are also many photographic opportunities there.
Once you reach the falls, you will need to take the difficult and steep trail down to the water. This part can be very difficult so caution and patience are very important. Once you reach the base of the falls, take a few breaths and start to visualize that perfect picture of "heaven on earth."
Best Time of Day to Shoot
Proxy Falls is blocked from the direct sun by a canopy of trees for most of the day. However, during the summer months, the sunlight penetrates the canopy in the late afternoon. For this reason you can shoot from first light until the sun peaks through the trees, and then again in late afternoon to evening.
Best Time of Year to Shoot
The road to Proxy Falls is closed in winter and until the snow melts in spring. In the spring, the water flow can be so strong it is impossible to get near the falls with a camera. I find it best to shoot in late spring or fall, when the water flow is consistent and not overpowering. Most of the foliage around the falls are evergreen and do not change colors much in the fall.
What Lens(es) Do You Need
The above shot was taken with a 24mm lens. You can use anything from a 16mm to a 35 mm lens, depending on the composition you are looking for.
There are no permits required; there is a $5/vehicle/day fee.
The direction of the shot is north at 20°.
Proxy Falls is over 200ft. tall and you are always tempted to try to capture the whole thing. Don't waste your time with this. Shoot from the front, shoot from the left, walk up the hill on the right side, or get in the water. In other words, take your time, don't limit yourself, and enjoy this masterpiece of nature.
You will need a tripod, a polarizer, and a neutral density (ND) filter to reduce your shutter speed to ½ second or longer to create the silky water flow. The force of the rushing falls can produce a ton of mist, which will end up on your lens and camera. Be prepared to shield your camera/lens with an umbrella, hat, or other item, and make sure you bring a rain sleeve for your camera and lots of lens clothes to wipe down your equipment.
Number of Other Photographers to Expect
Proxy Falls is one of the most spectacular falls you will ever visit, and it is a photographer's dream. However, it is hard to get to, which limits the number of serious photographers. I have been to this location 5+ times; sometimes there are a few other photographers there, sometimes I am all alone.
You will know how many people to expect by the number of cars at the trailhead parking lot.
It rains a great deal in this part of the country, so make sure you travel with rain gear. It can get cold in spring and fall so make sure you travel with the appropriate cold weather equipment in spring and fall. The road to Proxy Falls in closed in the winter.
I have Verizon and there is NO cell service anywhere around this location for 20 miles any direction.
Overnight Lodging/Camping
Proxy Falls is in rural central Oregon and the closest town is Sisters, OR (58 miles north then east). The closest larger towns are Bend, OR (80 miles north and then southeast), Salem, OR (115 miles north and then west), and Eugene, OR (70 miles west). Each of these larger towns has an abundance of lodging. Sisters, OR, is a nice little town with decent lodging.
Nearby camping and lodging
Camping - click on the campground below for directions
Limberlost Campground (7 miles)
Olallie at McKenzie Bridge (8.5 miles)
Coldwater Cove Campground(8.5 miles)
Lodging - click on the lodging below for a TripAdvisor review
Five Pine Lodge & Spa
(541) 549-5900
1021 E Desperado Trail, Sisters, OR
Best Western Ponderosa Lodge
(541) 549-1234
1500 Highway 20 W, Sisters, OR
Sisters, OR, is a small town, but has some good eating establishments. Some of my favorites are Three Creeks Brewing, Cottonwood Café, and Los Agaves. Each are nice places for a lunch/ dinner and a beverage.
Nearby Restaurants - click on the restaurant below for yelp review
Three Creeks Brewing
(541) 549-1963
721 Desperado Ct, Sisters, OR
The Cottonwood Café
(541) 549-2699
403 E Hood Ave, Sisters, OR
Los Agaves Mexican Grill
(541) 549-0777
5291 E Cascade Ave, Sisters, OR
There are no laundry mats in Sisters, OR (that I know of). The closest is in Bend, OR (60 miles).
Westside Coin-Op Laundry at 738 NW Columbia St. - Bend, OR
Cathy's Express Eco Laundromat at 407 SE 3rd St. - Bend, OR
Express Eco Laundromat at 2570 NE Twin Knolls Dr. - Bend, OR
Other Photography Opportunities Around
The closest airports are:
Eugene, Oregon (EUG) - (75 miles) is a regional airport servicing: Alaska Airlines, Delta, American Airlines, Emirates, Air France, Copa, Lufthansa, and United.
Portland International airport (PDX) – (170 miles) is a full international airport and services most of the major airlines.
Area Guides and Workshops
If you were looking for a GREAT photography guide for Pacific Northwest (Oregon and Washington areas) - I can highly recommend Mark Metternich. I have taken workshops with Mark in the past and he has been hosting workshops in the Pacific Northwest for many years.
Mark knows all the VERY best places to take you and just the right time to be there - to help you get the shot. He is a great photographer, an expert at photoshop, an excellent guide/instructor and a super nice guy.
Mark Metternich
www.markmetternich.com
Mark@MarkMetternich.com
The Photographer's Ephemeris is a very valuable tool for landscape photographers to determine the direction of the sunrise/sunset & moonrise/moonset from any place on earth on any day (past and future). Click here to take you to The Photographer's Ephemeris for this location.