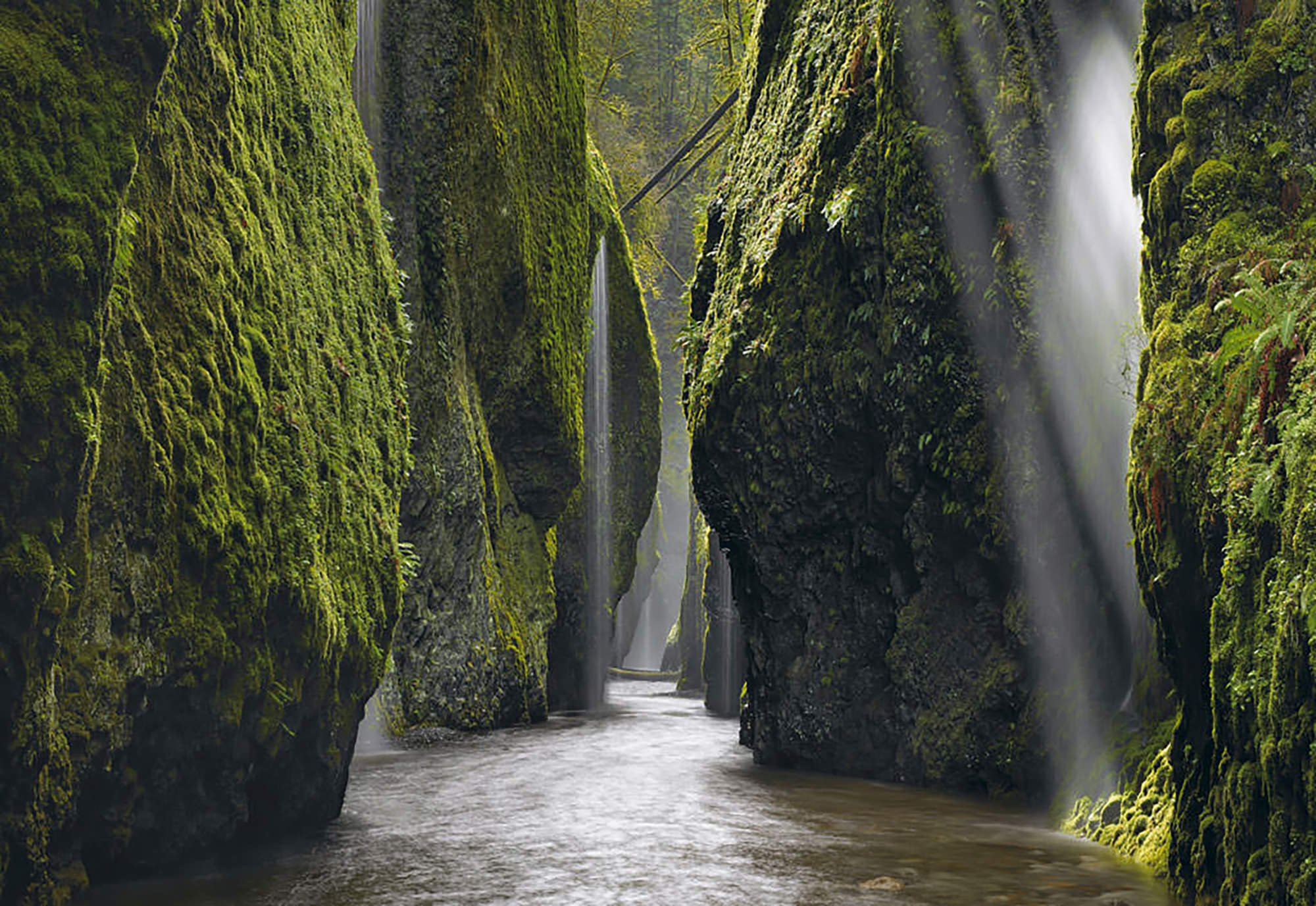 Oneonta Gorge - this obscure looking place is seen by many as the "Grand Jewel" of photographic opportunities in the Columbia Gorge. But, at the same time, it can be the most frustrating. This narrow moss-covered gorge is simply stunning, and the steep greens walls are so vivid they almost look fake.
A few things make the Oneonta Gorge so frustrating: 1) there is a huge log dam at the entry of the gorge (which takes about 20 minutes to go 50ft.), 2) oftentimes there are so many tourists, it is almost impossible to get a shot without someone in it, 3) at certain times of the year, the water level can be so high it is impassable. With all of this in mind, if you can catch this location at the right time, it can produce one of the best photographs you will ever take.
Parts of the Historic Columbia River Highway is closed from the Eagle Creek Fire of 2017. ODOT plans to reopen the highway when fire recovery work is complete. A Phased reopening is being worked on. Check the ODOT website for updates. Also Friends of the Columbia Gorge have a listing of hikes in the Columbia Gorge that are open and closed Trail Alerts.
Trail Difficulty - MODERATE TO DIFFICULT
I would rate the difficulty of this trail as a 3 on a scale of 1-5 (with 5 being most difficult). The enigma that is Oneonta Gorge is also found in the difficulty of the trail. While the hike from the parking lot to the gorge is a fairly level 200yd. walk that goes through ankle deep waters of the Oneonta Creek, the gorge is guarded by this massive natural log dam that you have to climb over.
Climbing over the log dam (which is made up of 20 or so large trees) is slow and very difficult, as the trees are slick and not stacked in any particular order. A slip here would be very painful and you would be lucky not to break a limb. Caution and a slow pace is the right technique for getting over the dam.
If you are in the gorge in spring or summer, the Oneonta Creek can be so high that you will have to walk through chest high waters, swim, or float on a raft.
GPS Coordinates & Elevation
Google Maps Birds-Eye-View
Click link above to view location in Google Earth
CLICK HERE to get driving directions the Oneonta Gorge parking lot.
From Portland, OR, travel east on I-84 for approx. 30 miles and take exit 35 (Ainsworth). Once you exit I-84, circle back and get on the Historic Columbia River HWY for 1.8 miles until you see an odd looking wooden tunnel on the left. The parking lot for Oneonta Gorge is just on the other side of the tunnel.
From the parking lot, walk back toward the tunnel and on your right you will see concrete steps leading down to a creek. From the creek, walk about 100yds. toward the entry for the Oneonta Gorge. It is a fairly easy walk, except for the imposing 10ft. pile of water-soaked rocks and trees, which is an accident waiting to happen. There is no such thing as fast going over the natural dam. Just take your time, measure each step, and climb over the wreckage of trees to the glory that is the Oneonta Gorge.
Once you are past the trees, you can spend the next hour or so wandering through the narrow gorge looking for that great photograph. The full length of the gorge is only about ½ a mile, and depending on the time of year, the creek can be either ankle or chest deep. I would suggest bringing waders/wet shoes to get through the creek.
Best Time of Day to Shoot
The Oneonta Gorge attracts tons and tons of tourists. Unless you want a person to be in your photograph, the best time to come is early morning, late afternoon, or on a bad weather day.
The best picture I have ever seen of the Oneonta gorge is from Peter Lik. His shot was taken on a very rainy day. The heavy ongoing rain produced beautiful rushing water streaming down from the walls of the gorge with the sun shining through it.
Best Time of Year to Shoot
The Oneonta Gorge can be shot any time of year (even in winter). However, the spring or fall would be the best time to shoot, as the water level and tourist traffic is less than during summer. The gorge is long and narrow, and unless you want a person in your photograph, the best time to come is on a bad weather day.
What Lens(es) Do You Need
The above shot was taken with a 24mm lens. Depending on the composition you are looking for, you can use anything from a 24mm to a 50mm lens.
There are no permits required.
The direction of the shot is south at 160°
There are tons of ways to shoot this location. But for me it all about the water, weather, and light. I would suggest taking time to explore the gorge to find the right composition, and then waiting for the right light.
You will need a tripod and a polarizer to reduce the glare on the water (and potentially a neutral density [ND] filter to reduce your shutter speed). Another item to bring are waders/wet shoes, as you will most likely be walking in ankle/knee high water.
Number of Other Photographers to Expect
The Oneonta Gorge is one of jewels of the Columbia gorge area and attracts lots of tourists and photographers. Unless the weather is very bad, you will not be alone.
It rains a great deal in this part of the country, so make sure you travel with rain gear. It can get cold in spring and fall, and winters are usually wet and very cold. Make sure you travel with the appropriate cold weather equipment in spring, fall, and winter.
I use Verizon, and the cell service in good until you get deep into the Gorge
Overnight Lodging/Camping
The closest towns are Cascade Locks, OR (6.5 miles east) and Stevenson, WA (9.5 miles east across into Washington). The closest city is Portland, OR (45 miles west). The Portland metropolitan area has many choices for lodging. Cascade Locks and Stevenson are smaller towns but do have several lodging options.
For camping, I stay at either the Eagle Creek campground (4.2 miles east) or Ainsworth State Park (15 miles west). Eagle Creek campground is very convenient, but small (16 sites), does not have RV hookups, and fills up quickly. Ainsworth State Park is a traditional campground with about 40 RV hookups and tent sites.
Nearby camping and lodging
Camping - click on the campground below for directions
Eagle Creek campground (currently closed due to Eagle Creek fire)
Ainsworth State Park (currently closed due to Eagle Creek fire)
Lodging - click on the lodging below for a TripAdvisor review
Best Western Plus Columbia River Inn
(509) 427-7700
735 Wa Na Pa St, Cascade Locks, OR
Skamania Lodge
(866) 571-0605
1131 SW Skamania Lodge Way, Stevenson, WA
Columbia Gorge Riverside Lodge
(509) 427-5650
3200 SW Cascade Ave, Stevenson, WA
Cascade Locks, OR, is a nice little community. My favorite place to eat is the Cascade Locks Ale House. They have GREAT pizza with a good selection of local brews.
Stevenson, WA, is a nice little town with some good places to eat. I have had many a good meal and cold beer at the Big River Grill directly across for the Stevenson Elementary School. It is nice place with good food and friendly folks. Also Joe's El Rio Mexican Café across the street has very nice people, pretty good Mexican food, and great margaritas.
Nearby Restaurants - click on the restaurant below for yelp review
Cascade Locks Ale House
(541) 374-9310
500 NW Wanapa St, Cascade Locks, OR
(971) 231-4599
515 NW Portage Rd, Cascade Locks, OR
Big River Grills
(509) 427-4888
192 2nd St, Stevenson, WA
El Rio Mexican Cafe
(509) 427-4479
193 2nd St, Stevenson, WA
There is a self-service laundry mat attached to A&J Market in Stevenson, WA.
Eastwind Laundry at 225 2nd St., Stevenson, WA
Other Photography Opportunities Around
The closet airport is in Portland, OR. Portland International airport (PDX) services most of the major airlines in the US.
Area Guides and Workshops
If you were looking for a GREAT photography guide for Pacific Northwest (Oregon and Washington areas) - I can highly recommend Mark Metternich. I have taken workshops with Mark in the past and he has been hosting workshops in the Pacific Northwest for many years.
Mark knows all the VERY best places to take you and just the right time to be there - to help you get the shot. He is a great photographer, an expert at photoshop, an excellent guide/instructor and a super nice guy.
Mark Metternich
www.markmetternich.com
Mark@MarkMetternich.com
The Photographer's Ephemeris is a very valuable tool for landscape photographers to determine the direction of the sunrise/sunset & moonrise/moonset from any place on earth on any day (past and future). Click here to take you to The Photographer's Ephemeris for this location.